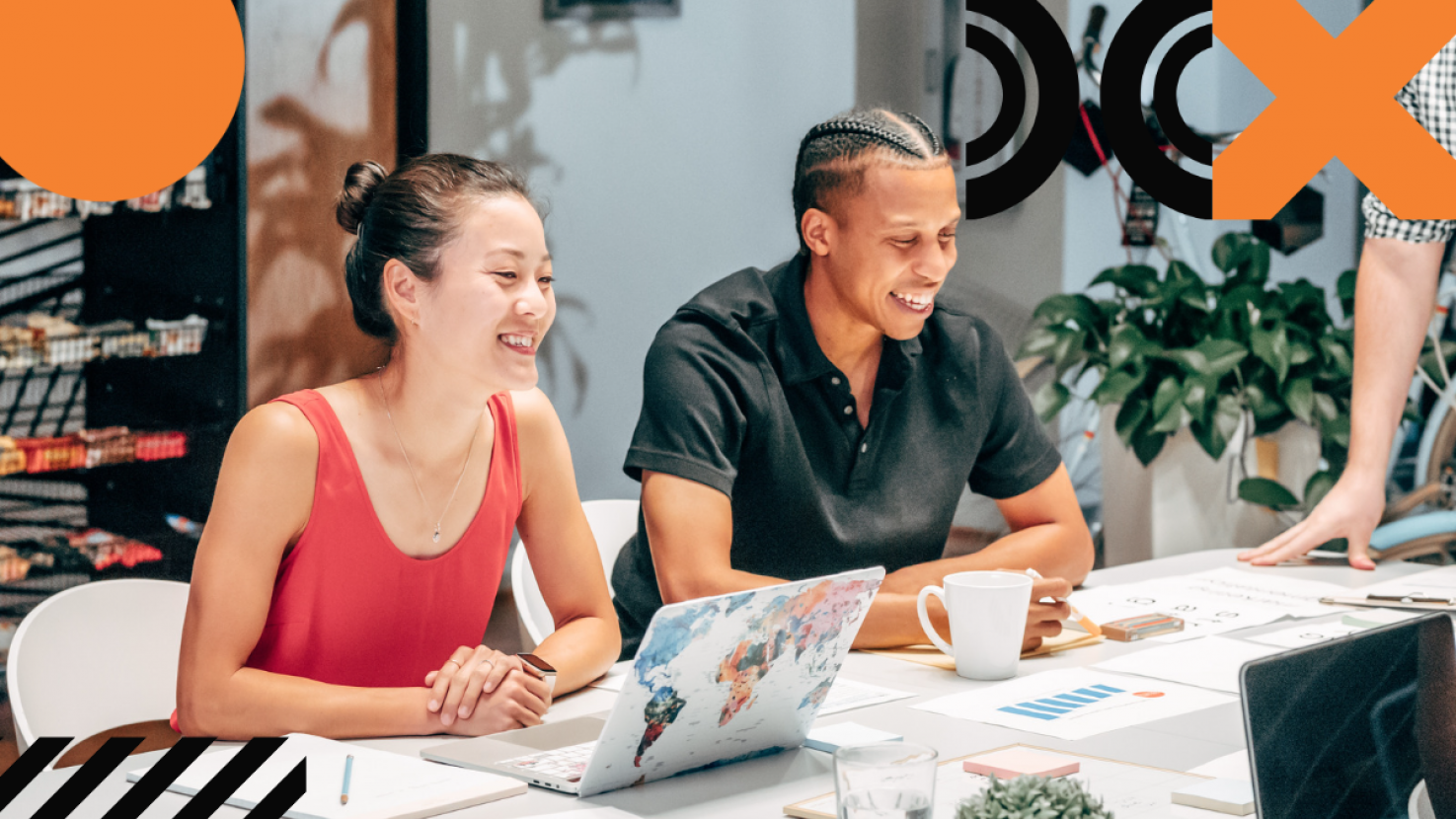 We serve the cause of building data culture from very different perspectives. One of us works for a British bank founded as a corporation by royal charter in Edinburgh, Scotland, in 1727. The other works for a consulting and cloud software company in the US Midwest that helps clients solve real-world data and analytics problems. Yet we are in full agreement on the urgent need to build data-driven cultures in organizations.
Here are some of the data culture challenges we've seen based on past experiences, and some of the questions they raise:
A limited understanding of what's required to create data culture.

 Technology or process by themselves will not create a flourishing data culture.  So what is the right recipe?

A general perspective on how each employee should use data in their role.

This kind of misalignment can sap the excitement from learning and experimentation. How can a data leader make analytics personally compelling to everyone?

A continued lack of clarity around the Chief Data Officer's role.

CDOs have too many jobs and not enough influence in many companies. How can a CDO identify the business value they enable, and how do they quantify and built it? 


 
5 Data culture rules of thumb
Based on these challenges, here are a few principles we use to create the right framework for data culture.
It's not a thing, it's an intersection of things.

Specifically, data culture lies at the intersection of people, process, data, and technology. The people part of this equation extends from IT experts whose job is to create platforms that allow information to be handled by analysts or leaders all the way to the service employees who are likely to interact with your customers most often.


 

It requires sustained training

. Whenever people are breaking new ground or being introduced to new tools and processes, sustained training becomes a must. You wouldn't jump into a business analysis and valuation exercise without formal finance training. Data culture is no different. The last outcome you want is for employees to get a pitch on data culture, return to their desks and then say, "Okay, let me get back to my job." Increasingly, the role of data culture is to highlight how data is some way everyone's job.


 

It's highly personalized

. Just as everyone tailors their use of a word processing program to their needs and objectives, data culture needs to be personalized to the individual to succeed. For example, personalized data quality dashboards can help employees see the immediate impact of their choices, while closed loop communication that builds people's confidence will help them embrace curiosity rather than fear of failure. This personalization can come in the form of traditional learning pathways or more recent strategies like gamification. Of course, these tools should be for everyone, not just colleagues with the word "data" in their title.


 

It needs C-level representation.

Ideally the Chief Data Officer serves as the "tentpole" for data culture. In the same way a signature film can support an entire studio, a Chief Data Officer should serve as the one person in the organization who can stand up the data culture and showcase data capability to its highest degree. The CDO connects the top-down efforts of data culture, getting buy-in from fellow executives while enabling team leaders to spread the power of data throughout the organization. And CDOs or their equivalent should be able to say, "This is how we should build our data products. And this is what success looks like." 


 

It has to permeate the whole company.

Without data leaders who bring full understanding of the importance of data culture, who see the strategic value  and know how to get there, data culture will exist only in pockets. That's a non-starter, because no one in 2022 should view data as a magical art that is only practiced in one department. 


 
More / Better / Different / Less
This mnemonic is one common-sense way to advance data culture and manage change in your organization. It can be used in concert with the question set below, which lays out 19 checkpoints you should consider when building a data culture.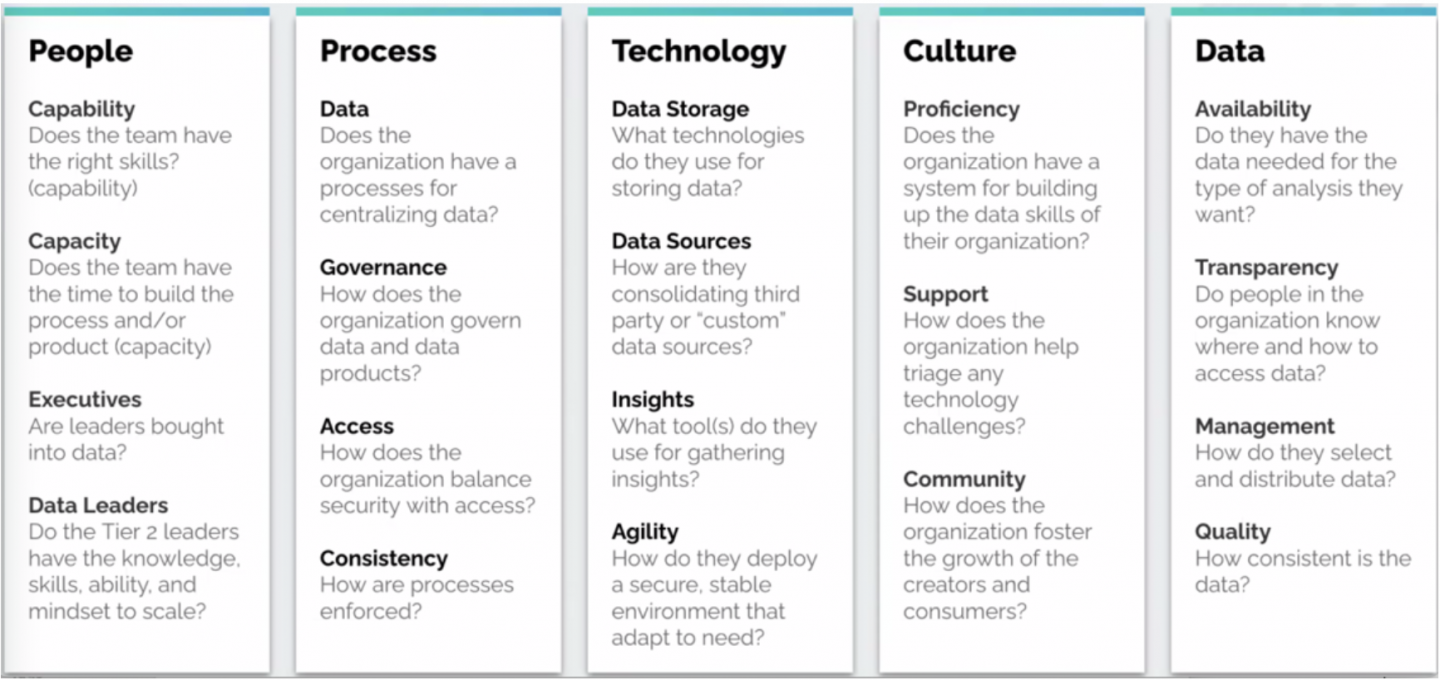 Here are a few examples of putting it to use.
More
If you have a great data culture vision but only scattered learning support or data champions, how can you bring more of both to the table and increase your odds of success? 

If you're creating a dashboard showing data profiling on where things are working and where they're not, but doing this in isolation, where could you join that up with personalized messages on the impact of what people are doing by not treating data seriously? 

Where could you add opportunities for learning pathways that will inspire people?  
Better
If you're currently creating dashboards but doing so in isolation, how could you make them stronger by incorporating management's perspective on the importance of data literacy and data management? 

If you're swimming in dashboards that look beautiful but aren't being used to create data-informed decision-making, how could you create a better core set  that Sales, Marketing, Finance and other departments will use regularly? 
Different
If you have people, capability, budget, and processes but your data leaders have shared no vision for your data culture, how could you define one first and avoid a false start? 

If online data literacy training isn't taking hold, should you look at lunch-and-learns or after-work meetups instead? 
Less
Are you acquiring analytics technologies ahead of your ability to optimize them?

Are you relying on contractors too much as a source of talent, versus building that talent in-house? 

The twofold cultural journey: organizational + personal
Why is it so important to put in all the work to build a data culture? Because when you do, you can prove value through data. That means showcasing time savings, dollar savings, risks mitigated, or dollars created. Use cases that identify the potential savings or value to the organization are critical here.
This same idea of value is critical for employees, but on a personal level. Our shared experience says that what people want most in their careers is to feel that they are valued, that they're providing something of value, and that what they do has meaning. That means articulating how greater data literacy will improve employees' own lives, whether that's time saved in getting out of monotonous routines due to lack of automation, gaining a new skill set that they never had before, or seeing how they can get to a deeper insight using data. 
Data leaders should never take their eyes from this twofold goal of organizational and personal value. Evidence of both types of value are the hallmarks of world-class, data-driven cultures.